C
ALL
T
OLL
F
REE
(908)272-9610
fax: (908) 272-9650
---

---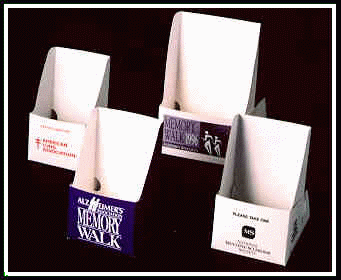 | | | |
| --- | --- | --- |
| | | Durable |
| | | |
| | | Inexpensive |
| | | |
| | | Easy to Assemble |
| | | |
| | | Lightweight For Cost |
| | | Effective Shipping |
| | | |
| | | Available Blank or Printed |
| | | |
| | | Drop Shipped to Any Location |
| | | |
| | | Recycled Board |
Backer Printing has been manufacturing brochure holders for the past 15 years. Some of our satisfied customers include The National Multiple Sclerosis Society, American Red Cross, National Parkinson's Foundation, Alzheimers Foundation as well as thousands of users requiring smaller quantities for their event or promotion.

These holders are especially noted for their durability, yet because of their unusual construction, they are extremely lightweight, reducing shipping costs.

Blank holders are in stock at all times and orders as small as 125 units are easily filled. We can print from 1 to 4 colors on special orders. Large orders can be bulk shipped to one location or drop shipped to multi-locations depending on the needs of the customer.

Please call our toll free number for specific information.
---
Backer Homepage|Brochure Holders|Printing
Phone Cards|Packaging|Checks|Catalogs|E-mail
---